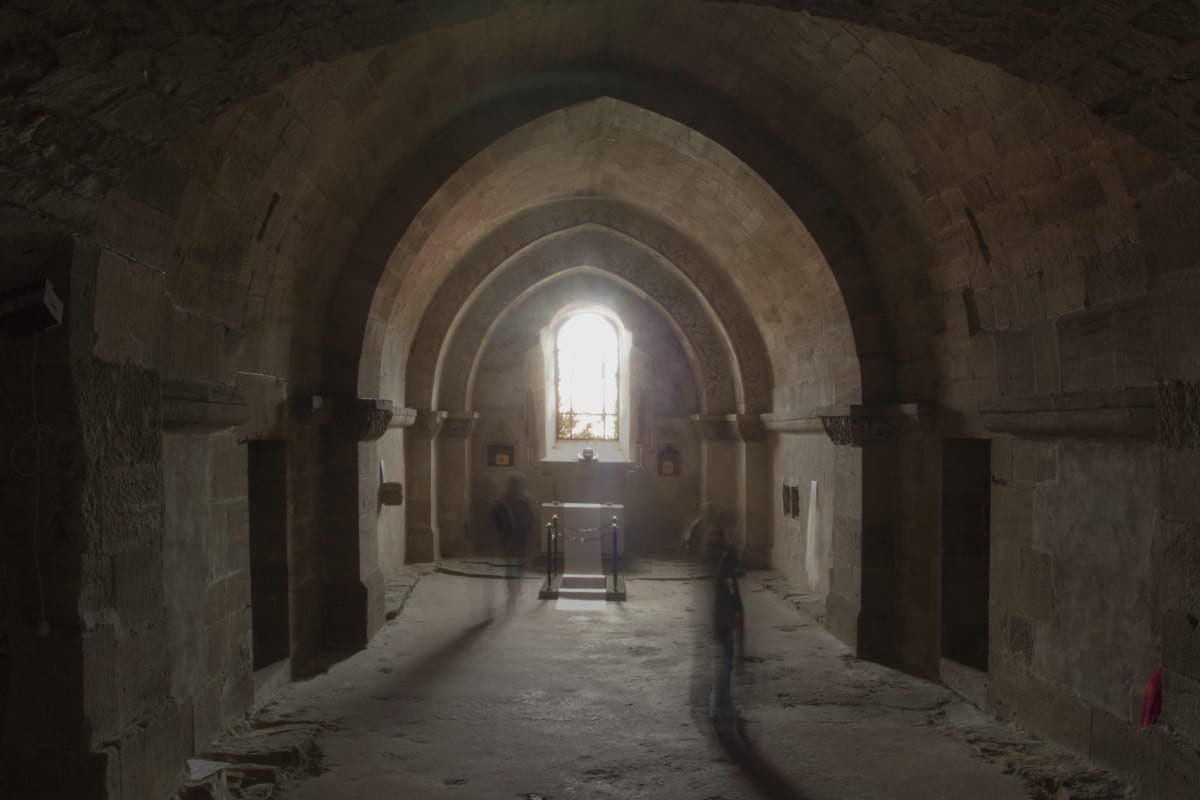 Biography
Magda Delgado (Lisbon, 1980). Fine Arts Degree, Faculty of Fine Arts of the University of Lisbon (2008). MA - Painting by the same Institution (2012). She lives and works between Lisbon and Sheffield.
She received the Calouste Gulbenkian support (Artistic Development and Dissemination Programme) for the exhibition «Space in Paralaxe» at the Astronomical Observatory of Lisbon (2011), as well as the Jovens Criadores'09 Prize (2009).
Her work is represented in numerous national and international collections, namely : Calouste Gulbenkian Foundation (PT), Kells Collection (ES), Kloster Denkendorf (DE), Museum-Home Medeiros e Almeida (PT), Casa Fernando Pessoa (PT), and the ECO Collection (PT).
Academic Training
2012

MA Painting, Faculty of Fine Arts of the University of Lisbon (Lisbon, PT)

2008

BA Fine Arts - Painting, Faculty of Fine Arts of the University of Lisbon (Lisbon, PT)
Solo Exhibitions
2017

Prophecy and Abyss, Acervo - Arte Contemporânea (Lisbon, PT)

2017

L'Ermite devant le Mystère, Portuguese Cultural Centre / Camões Institute (Luxembourg, LU)

2017

Golgotha, Krypta der Klosterkirche Dendendorf (Stuttgart, DE)

2016

L' Arcadie après le Malaise dans la Civilisation, Rooster Gallery (New York, USA)

2012

Contemplation Images and the revival of mentor Alberto Caeiro, Casa Fernando Pessoa (Lisbon, PT)
Group Exhibitions
2020

ARCOlisboa 2020, ARTSY / NO·NO (Online)

2019

Arte Santander (solo project), Acervo - Arte Contemporânea (Lisbon, PT)

2019

JustMad - Feria Arte Emergente, Acervo - Arte Contemporânea (Lisbon, PT)

2018

Justlx - Lisboa Contemporary Art Fair, Acervo - Arte Contemporânea (Lisbon, PT)

2017

Luxembourg Art Week, Hall Victor Hugo (Luxembourg)

2017

2004-2008, FBAUL Gallery (Lisbon, PT)

2016

Sala do Veado: 25 anos, Sala do Veado, Museum of Natural History (Lisbon, PT)

2014

10+1: A Título Informal, Espaço Cultural das Mercês (Lisbon, PT)

2014

Levantamento das Pestes, Church of São Vicente (Évora, PT)

2014

MÁScaras, Laboratório Galeria, Mónicas Convent (Lisbon, PT)

2013

Desdobramento Enfim!, Laboratório Galeria, Mónicas Convent (Lisbon, PT)

2012

Lugar [in] Comum, Residências Coop (Lisbon, PT)

2012

Instituições Culturais e Representatividade, Carmo Archeological Museum (Lisbon, PT)

2012

SPECTRUM, Galeria Antiks Design / Casa-Museu Medeiros e Almeida (Lisbon, PT)

2011

Uma América, Galeria 9'Ocre (Montemor-o-Novo, PT)

2011

Tempos de Vista - O Espaço em Paralaxe, Astronomical Observatory of Lisbon (Lisbon, PT)

2011

ZIPBUNG, Sala do Veado, Museum of Natural History (Lisbon, PT)

2011

O Chiado, A Baixa e a Esfera Pública, Mártires Basilica (Lisbon, PT)

2010

Jovens Criadores '09 Award, CPAI (Évora, PT)

2010

Tempos de Vista – Seis perspectivas em torno do lugar, Mãe D'Água (Lisbon, PT)

2009

Work in Progress – Espaços / Matéria, Espaços de Desenho, Fábrica Braço de Prata (Lisbon, PT)

2009

Painting Finalists FBAUL 2007/2008, Galveias Palace (Lisbon, PT)
Awards
2009

Jovens Criadores '09 Award, CPAI (Évora, PT)

1998

Cena D'Arte '98 (Ceramics), honourable mention, Cena D'Arte (PT)
Scholarships
2011

Support Program : Artistic Valuation and Promotion, Calouste Gulbenkian Foundation (Lisbon, PT)
Artistic Residencies
2019

Artistic Residency, Mártires Basilica (Lisbon, PT)

2012

Artistic Residency, Residências Coop (Lisbon, PT)

2011

Artistic Residency, Astronomical Observatory of Lisbon (Lisbon, PT)
Collections
Colecção ECO (Marvão, PT)
Colección Kells (Santander, ES)
Calouste Gulbenkian Foundation - Artist Book Collecion (Lisbon, PT)
Kloster Denkendorf (Baden-Württemberg, DE)
Casa Fernando Pessoa (Lisbon, PT)
Casa - Museu Medeiros e Almeida (Lisbon, PT)