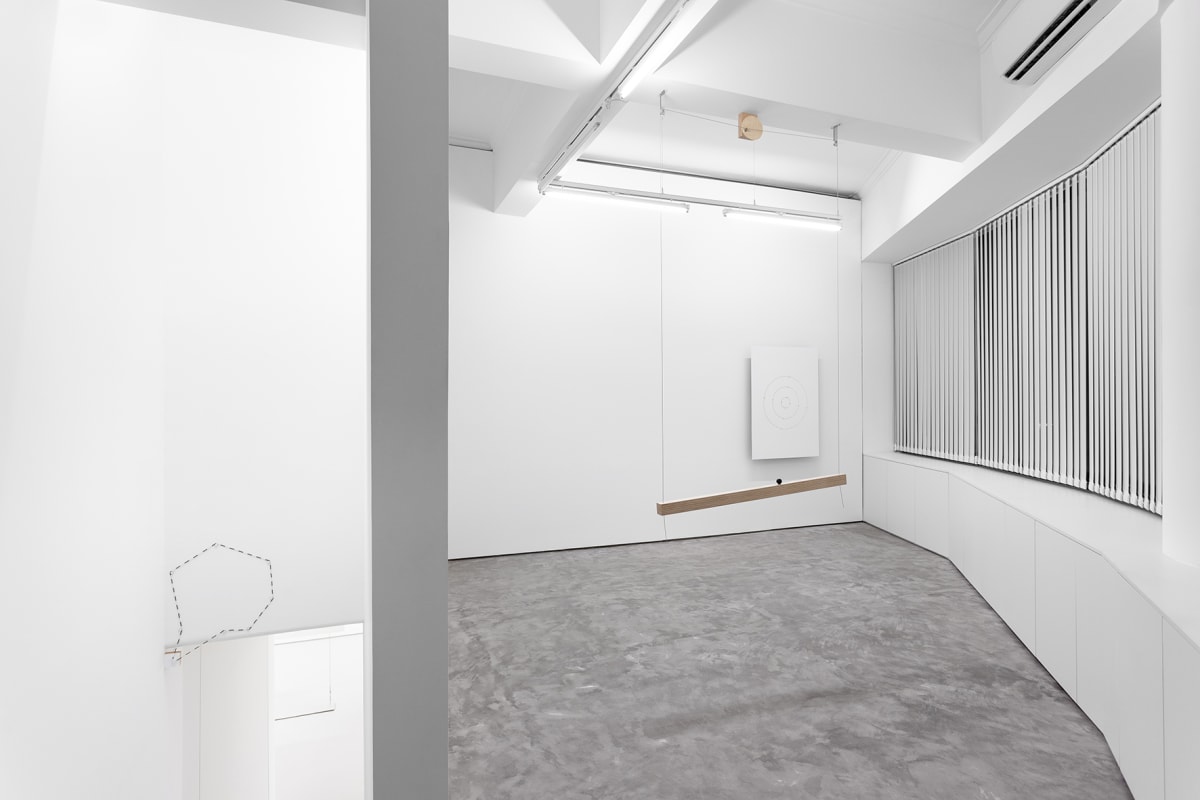 Dis-orientations on this exhibition
Carlos's praxis is CYLINDRICAL

it affirms itself upwards and downwards with equal width : it repeats itself.

it is constant – it is a cornerstone – it is foundational

it institutes something, even if we know not what that is

it is a surprise: maybe, maybe
THAT WHICH REPEATS ITSELF SURPRISES US

it sways it sways it sways but it does not fall. It continuously continues without variation

[or with a variation of minor notes – those that matter to the disorientations]

suspended, heavy, sustained
THAT WHICH REPEATS ITSELF CAPTURES US

the regular motion captures the gaze but also the body.

Slowly, the home-workplace-home dance seems to be evoked;

in a whisper and wanting the humdrum

that cuddles our trained hand

that pushes us back on track

the relations between time and consistency;

YOU BOIL SQUID-INK SPAGHETTI

WITH THE SAME TIME MEASURE AS THE [[other]] SPAGHETTI.
Movement and color walk hand in hand.
Consciousness of time is _________ (variable)

and it entwines with – which is to say it marries – duration

Sensations are articulated with perceptions

and from this combo ensue life's senses,

invented in the playing out of stories,

but also the experience of time.

Knowledge of time is another matter altogether.

Reason and feelings articulated, but not collected.

synchronicity and the senses are articulated
TICK - TOCKS, TIC - TOCKS
TO SUM IT UP: the construction of Gaze is synesthetic.
HOLE, VOID, RESISTANCE, ROUTINE
Carlos's titles have an implicit message

his articulated praxis between para-artwork and artwork-itself

tells us that movement is key

as well as the structure which structures it,

but what's important is the magic that comes out of it.

The enthusiasm that arises from structure is The artwork

and not the constructive details

which we might find difficult to keep up with

lastly, that which is most relevant

to understand the signs
in the light       ::
the work of EVIDENCE.

&

To understand the signs
through the shadows   ::
the work of INTELLIGENCE.




CARLOS MENSIL
Time without measure
12.09 — 07.11.2020
_
Exhibition text : Catarina Real
Translation: Henrique Frederico
Graphic identity : Joana Paulino
Exhibition photography : Bruno Lopes