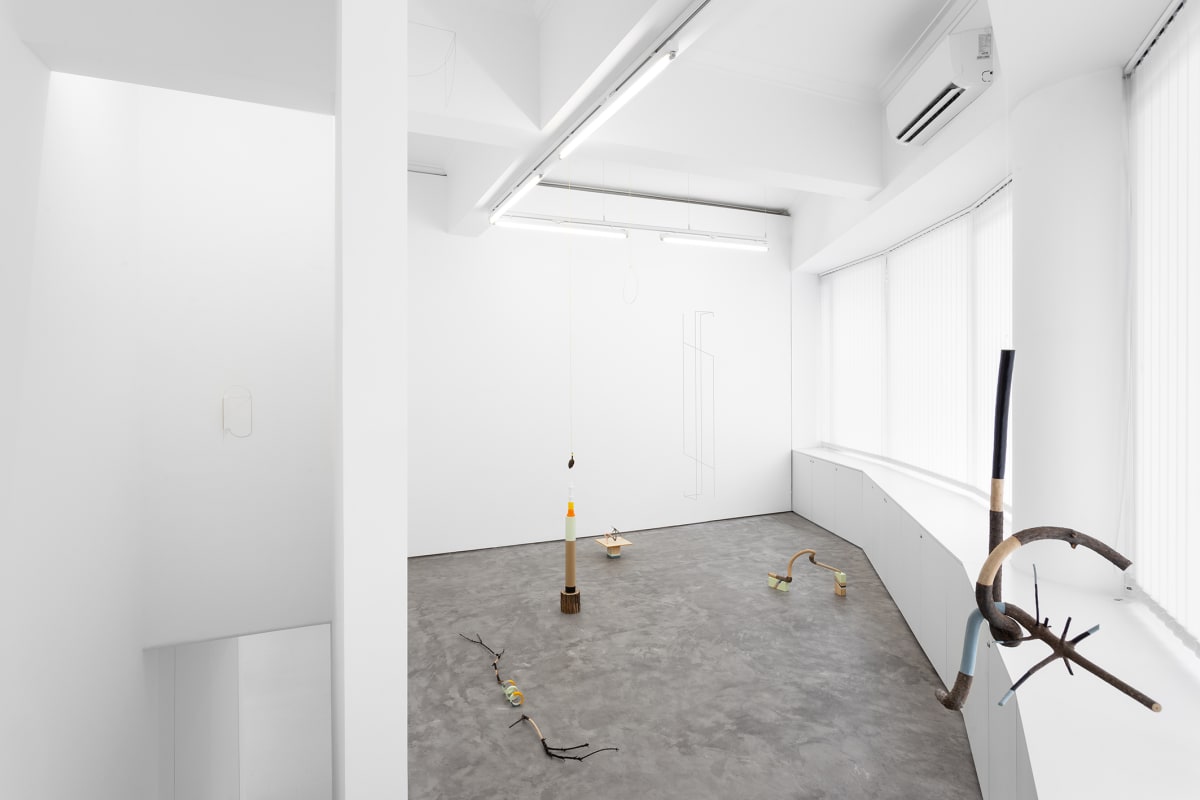 Susana Ventura
Matter-affect



Sometimes it is necessary to pause to contemplate what surrounds us, carelessly, so that the amazement can arise and take care of us. In the context of contemporary art, this can imply going against the stream or resuming and exploring forgotten, dormant paths, which are not part of the "grand narratives" (the once great narratives which have failed alongside modernism, which are being replaced by other narratives, which were born from the flaws of the first, and which are however increasingly tending towards an homogenisation and saturation that nullify the differences they claimed at the beginning), not subject themselves to the Zeitgeist, which constitute themselves as other ways of experimentation and which, many times, come from a force which we could call interior, although this involves forces that gravitate towards an exterior of shapeless, permeable, tumultuous contours, such as those that define our present. Sometimes it is also necessary to destroy the very notion of the present and reinscribe ourselves in cyclical time, in the time of the eternal return, in this virtual past, as Bergson dictated time, even if it is already unanimously accepted that our time has long ceased to be this linear teleologic vision of human progress, to be understood from multi-directional perspectives, as Braidotti has been defending.
It will certainly be (nearly) impossible to escape the lines that weave the present, precisely because they have caught us in formerly invisible but latent webs, forcing us to question and re-evaluate our condition of existence, since a certain utopia is inscriber at the origin of this exhibition which is beginning to be felt more and more: how to escape the very teleology of contemporary art and find (or even invent) new lines of experimentation (an experimentation that is free, aerial, tumultuous, seductive, because it lightness and dance also exist - following a Nietzschean maxim - in our present)?
In the foreground - this utopian plane - the aim was to think about the matter-affect relationship, appropriating the theory of individuation and the modulation principle of Gilbert Simondon, considering that there is a transformation of the material (any material : rocks, steel, plaster , pigments, light, objets trouvés, branches, among many others), as it is in its raw or found state (which may presuppose the existence of previous transformations, resulting from the action of time or the elements of nature on the material, etc.) in expressive matter, which is understood as a component of the work of art, intrinsic and irreducible to its composition. Implicit is a double transduction between the material and its transformation into expressive matter in the face of the reaction to other components, and between the material and the artist, which preferably occurs on a plane where all the components are understood (or rather felt) like forces. The energetic exchange that flows between the artist and the material is not linear (and often occurs in a moment of abandonment of consciousness, leading the artist to an unpredictable experimentation), as it is intensified by the experience of the present moment in which the limits of affections are questioned (this is still the main way in which we know the world - the way we are affected by phenomena). And both the artist and the inert material (before its passage to expressive matter) are intertwined in this incessant exchange (which is no longer, however, the classic struggle between artist and material, instruments or techniques, although all these can concentrate and release forces which act on the final composition plane of the artwork).
In Gilbert Simondon's modulation model (opposite to the traditional hylemorphic model), there is no separation between form and matter. On the contrary, both form and are formed simultaneously and continuously in the plane of forces generated between them. For Simondon, the brick does not result from the imposition of a form onto an inert material, but from the particular qualities and the potential of clay that give it a moldable structure. It is this potential for deformation and variation within the clay that allows its transformation while the cast, which determines the shape, is a contour that delimits and conditions these potentialities through the forces that it itself radiates. Individuation is not a model of casting, but rather of modulation (and Simondon insists on this distinction), insofar as the first is static and the second is a continuous dynamic process. Still considering Simondon's theory of individuation, the pre-individual potentialities of clay undergo a particular individuation, whose limits are determined by the cast. Theory necessarily becomes more complex when we move onto all domains of individuation, because both form and matter activate, in addition to those of substances, very different forces, some of which result from external power relations...  And this leads us to immediately leave the predefined utopian plane, with a caveat, however: we will continue on a plane where form and matter form an indecomposable block and are mutually composed.
Matter concentrates, in itself, affects (they are not external to it, nor imputed). Affect is here understood as a sensitive compound released by the individuation process of matter (and not as belonging to a subject) which results in its capacity to create different states such as attraction, empathy, horror, repulsion (among others), independent of a subjective emotion. Returning to Simondon's model of modulation, we think of the different powers of matter, which are in constant becoming, as intrinsic affects to matter (taking into account that it results from a double process of individuation, as we have defined).
The selected works by Keke Vilabelda, Daniela Ângelo, Nora Aurrekoetxea, Jong Oh and Pilar Mackenna explore, in very different ways, this relation between matter and affection, starting from an experimentation on materials, on the very substances they are composed of and the forces they concentrate which find, in the passage to expressive matter, a distinct composition, drawing a new energetic field (or immanent vibration) released by gestures, lines and colors. This is also intensified by the encounter between different works, producing different reverberations and resonances, which increase whenever we place ourselves at the intersection of opposing forces (such as, for instance, between the force of gravity and suspension, between weight and lightness) or between forces that act by continuity (between materials that are in the same chain of transformation such as, for example, the mineral). Simultaneously, the resonances which arise between forms in some of these encounters send the forces back to matter, in this sense that both form and matter build each other up. 
In Keke Vilabelda's work we find the affection that is also the memory that matter preserves (always the memory that unfolds in two, the one that remains virtual and the one that updates itself) which reveals time and defies death. The exhibited paintings result from a manipulation of the different forces at work in painting, of speed, evaporation, rarefaction, erosion, and crystallisation of coloured pigments. The greatest force will be that of time itself that the paintings release, from the layers revealed, to the ambiguous areas where we lose our gaze and become attentive. They are mineral paintings. 
Photography has another materiality, but alike Vilabelda's mineral-paintings, it also expresses the force of time. Time in a photograph is always past. Daniela Ângelo accentuates this time even more, capturing objects and beings devoid of organic life, but which concentrate that other life born from matter and its affections, especially through the manipulation of another of the materials photography is made of: light. An intense light that reverberates in space, bringing those beings and objects from death. And with them, desire and passion. 
Nora Aurrekoetxea's sculptures directly refer to the affections of an absent body, which the work does not represent, but potently contains, and which is itself an affective body, creating an indiscernibility between sculpture-body-affect, presenting complex degrees or stages of fragmentation, tension, protection, vanity, fluidity, lightness, among others, which her materials compose, namely through this individuation process always open in the confrontation with the spectators' bodies. The lines become gestures, sometimes more violent, other times more slender and aerial. Volumes and the material processes that conceive them become members of bodies. Heavy bodies, romantic bodies, bodies that carry their own fatality, their destiny. 
Lines become gestures and movements, too, in Jong Oh's simple sculptures and sculpture-drawings. Besides the interchangeability of expressive qualities and materials between the fields of sculpture and drawing, the exhibited works relate to architectural archetypes - such as the column and the arch - that maintain a direct connection to the body, using elementary forces such as gravity, weight, and suspension, and volatile and floating materials such as light and shadow. The artist himself explains that his line sculptures, for example, result from a dialogue between himself and space. We immediately think of space as a resonance box, traversed by lines, air masses, light, and shadow, which crystallize in Jong Oh's sculptures, revealing these affections of space itself. Particularly in the folding drawings, we witness a kind of dance, in which the lines (of the drawing) intertwine, move away, and detach themselves from the planes (of the sculpture) and vice-versa, also taking us back to the invisible affects or forces of space. And although we are looking at a drawing-sculpture, it puts the space, around us, in motion and our body in space-motion, twist, fold, mirror, illusion of self. 
Pilar McKenna understands the relationships with different materials (both natural and industrial) as part of a great ecosystem, where the connections between human beings, nature, animals, and objects are inscribed. Her practice evolves from experimentation and manipulation of materials, encompassing both knowledge of their physical and constructive properties and intuitive processes of association and transformation, in which both are constituted as ways of scrutinizing and understanding the Other. For this exhibition, the artist retrieves sculptures conceived from pieces of trunks and branches she collected in Chile (her homeland), whose found forms resulted from animal interventions (such as the Chilean wood fly that creates twists in the branches) or from the action of violent forces (such as forest fires), in which she delicately intervened, in a precise and intense listening to the form-matter found. To this set of sculptures, which carries with it the geography of an affective place (but whose artistic action allows us to extract from the affections, the affections, as Deleuze would say), the artist adds new sculptures, conceived from materials and objects found in the city of Porto, where she currently lives. Her installation expresses this vitalism inherent to matter, reaffirming that, as complex and heterogeneous as it is, it is matter that constructs everything, that connects everything, finally unleashing in each person their own affections (in which empathy is included). 
Let us, too, decide what we want to take into ourselves of the present. 
 




MATTER - AFFECT
Daniela Ângelo, Jong Oh, Keke Vilabelda, Nora Aurrekoetxea, Pilar Mackenna
08.06 — 29.07.2022
_
Curated by : Susana Ventura 
Photography : Bruno Lopes 
Video : João Silva 
Graphic Identity : NO·NO 
Translation : NO·NO 
Production Support : Jesus Crespo 
In collaboration with (and special thanks to) : Sabrina Amrani Gallery, Juan Silió Gallery