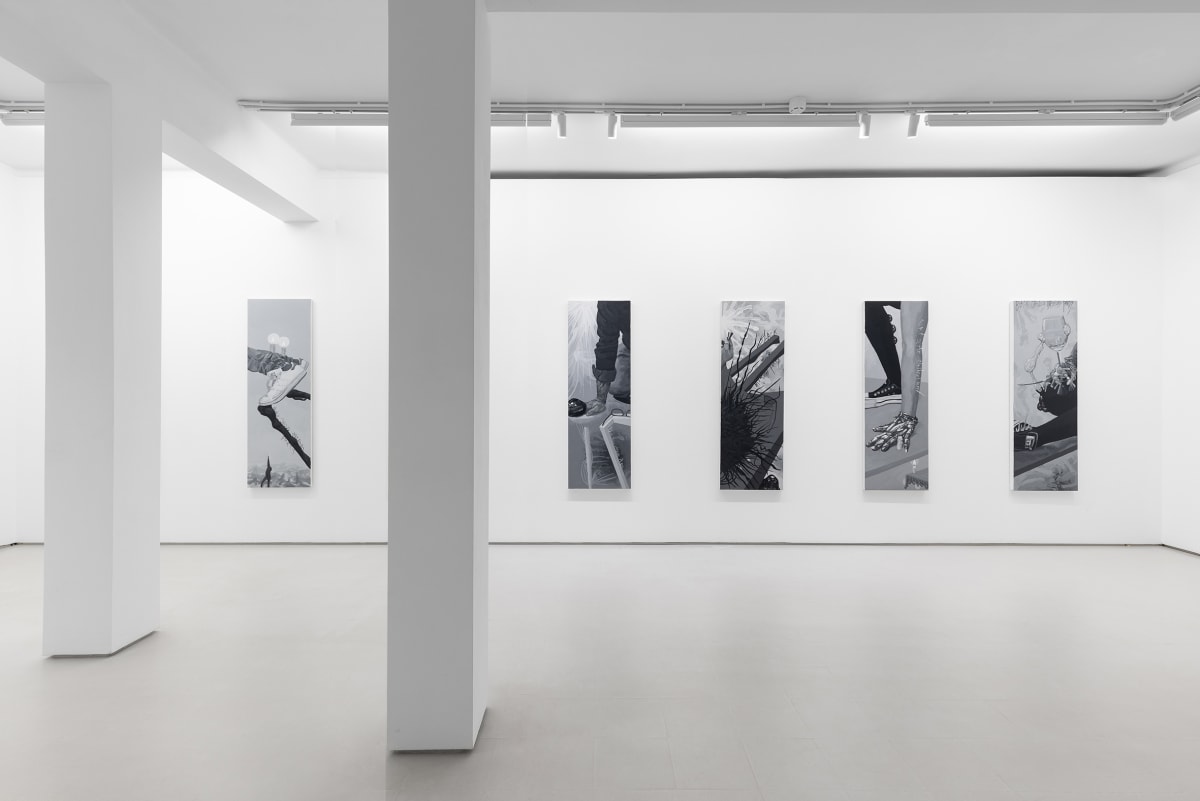 It is with great pleasure that we announce Black jell-O birthday party, the first solo show by António Olaio at the gallery !

OPENING
Thursday, 9th of November, 7 – 10 PM

DURATION
01.11.2023 – 13.01.2024

~


David Santos
exhibition text 

Each people develops its own founding myth about the origin of the world. Based on oral tradition, each culture tells its own stories and legends and we call this process Cosmogony. Produced in the succession of generations, cosmogonies can be based on religious, mythical or pre-scientific principles which, in their idiosyncrasy, seek to explain the origin of existence, its meanings, and how these influence our view of the world. 
Unlike cosmogonies, cosmologies are written narratives and have an author. Less figurative than cosmogonies and more conceptual, abstract and systematic, they seek to methodically unravel the principles and laws of nature that have been at work forever and without divine interference. Since the night of time, as an irresolvable conflict between light and darkness, the path of meaning is thus produced, the mould of an action without compass - capable, however, of keeping us bound to the circumstances of life and its hesitations. 
Perhaps influenced by the equatorial energies of this border between hemispheres, António Olaio, born in 1963 in Lubango, Angola, has been pursuing his cosmic matrix for precisely six decades. Individual, but capable of activating the forces of our collective imagination for over forty years, his artistic work has called on various disciplinary dimensions to emphasise in painting the expression of an intertextual, hybrid, cross-disciplinary or even discipline-free medium, reinscribing a complex, crazy and free narrative between multidimensional references, from sculpture to performance, or from painting to video and installation. 
In this sense, we can say that art, for António Olaio, inhabits the limit and carries with it the contention of the end. Both his art and his theoretical or performative discourse fall within this experimental register of fantasy, of the strangeness triggered by the transmutation of reality. A task that never allows itself to be confined within the limits of the world's intelligibility, that doesn't allow itself to be scrutinised in the light of day or science. Poetic and paradoxical, like a hyena in the desert, Black jello birthday party ultimately represents the expression of the origin and destiny of the world, life itself.
Jorge Luis Borges, master of the labyrinth and of paradoxes, built the largest library of undecidables, among magical storms, characters and perennial geographies. His is a phrase that partly summarises the essence of this exhibition: "We easily accept reality, perhaps because we intuit that nothing is real. I dreamt of doubt and certainty." Through lines, shapes, colours and non-colours, notes or semantic metamorphoses, António Olaio persists in the infinite design of his personal but transmissible cosmogony. It's an idea that, despite the authorial weight of its affirmation, reverses the stertor of any attempt at cosmology.

~

ANTÓNIO OLAIO
Black jello birthday party
01.11.2023 – 13.01.2024
_
Text : David Santos
Photography : Bruno Lopes 
Video : João Silva