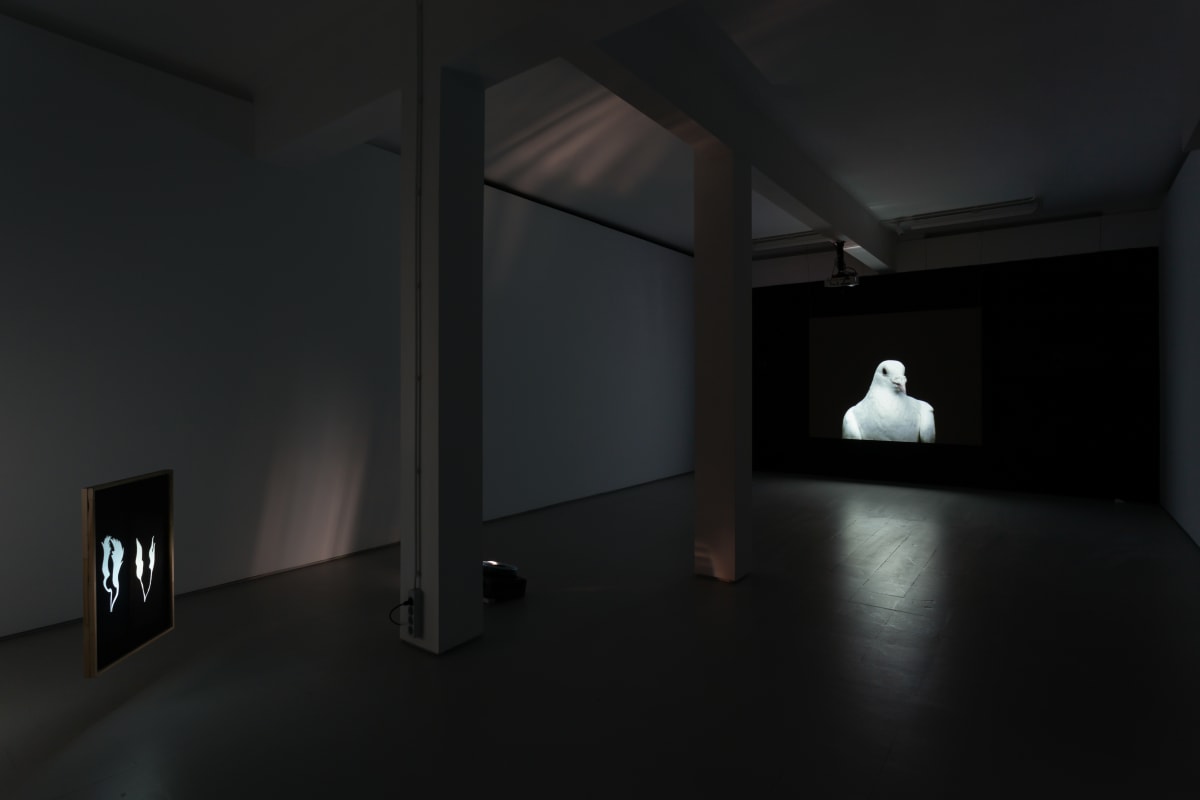 Biography
Mariana Caló (Viana do Castelo, 1984) and Francisco Queimadela (Coimbra, 1985) studied Painting at the Faculty of Fine Arts of the University of Porto and have been working as a duo since 2010. Calouste Gulbenkian Scholars in 2012 for an artistic residency at Gasworks, London and Scholars of General Directorate for the Arts (DGArtes) / INOV-Art program, which they developed in Berlin, where they were based between 2008 and 2012.

Distinguished with the BES Revelation Award (Serralves Foundation / Banco Espírito Santo, Lisbon / Porto) in 2012 and Winners of the International Schermo dell'arte Film Festival award in 2013. Finalists of the EDP Novos Artistas Award (EDP Foundation, Porto) in 2013. Winners of the first edition of the Paulo Cunha e Silva Prize in 2018. In 2021 they participated in the 34th Bienal de São Paulo.

Their practice is developed through a privileged use of the moving image, both through filmmaking and in the intersection with installation and site-specific environments in conjunction with drawing, painting, photography or scutheir work.

Among their recent exhibitions we highlight : Flor Fantasma,  CAV, Coimbra PT (2021); 34ª Bienal de São Paulo - "Faz Escuro mas eu Canto", São Paulo, BR (2021); Other Times, Green Parot, Barcelona, ES (2021); Corpo Radial, Galeria Boavista, Lisboa, PT (2020); Caos e Ritmo, CIAJG, Guimarães, PT (2020); Colección Inelcom, Madrid, ES (2020); Bienal AnoZero, Coimbra, PT (2019); Rudimental, Solar  - galeria de arte cinemática, Vila do Conde, PT (2019); Meia-Noite, Cinzeiro 8, MAAT, Lisbon, PT (2019); Sombra Luminosa, Escola das Artes, Porto, PT (2018); Alfabeto Analfabeto, Monitor Lisbon, Lisbon, PT (2018); Habitantes de habitantes, Museu Nacional Soares dos Reis, Porto, PT (2017) and Kunsthalle Lissabon, Lisbon, PT (2016); A Trama e o Círculo, Museu da Imagem, Braga, PT (2017) ; O Livro da Sede, Museu de Serralves, Porto, PT (2016).

Their films have been shown at festivals such as: Festival dei Popoli, Ialy (2021); Porto/Post/Doc Film Festival, Portugal (2020); Athens Avant-Garde Film festival, Greece (2020), Kassel Documentary Film and Video Festival,  Germany (2020); Berwick Film & Media Arts Festival, United Kingdom (2020); IndieLisboa, Portugal (2020); FIDMarseille, France (2020); Documenta Madrid, Spain (2019); Qamar Cinema, Wadi Al-Qamar, Jordan (2019); IFFR – Deep Focus, Rotterdam (2019); 25 FPS, Croacia (2018); New York Film Festival, USA (2018); CurtoCircuito Film Festival, Spain (2018). 

Their work is represented in the municipal collections of Lisbon and Porto, Portugal, in the National Collection of Contemporary Art, in the collections of Serralves, António Cachola, Fundación Inelcom, and among private, national and international collectors.