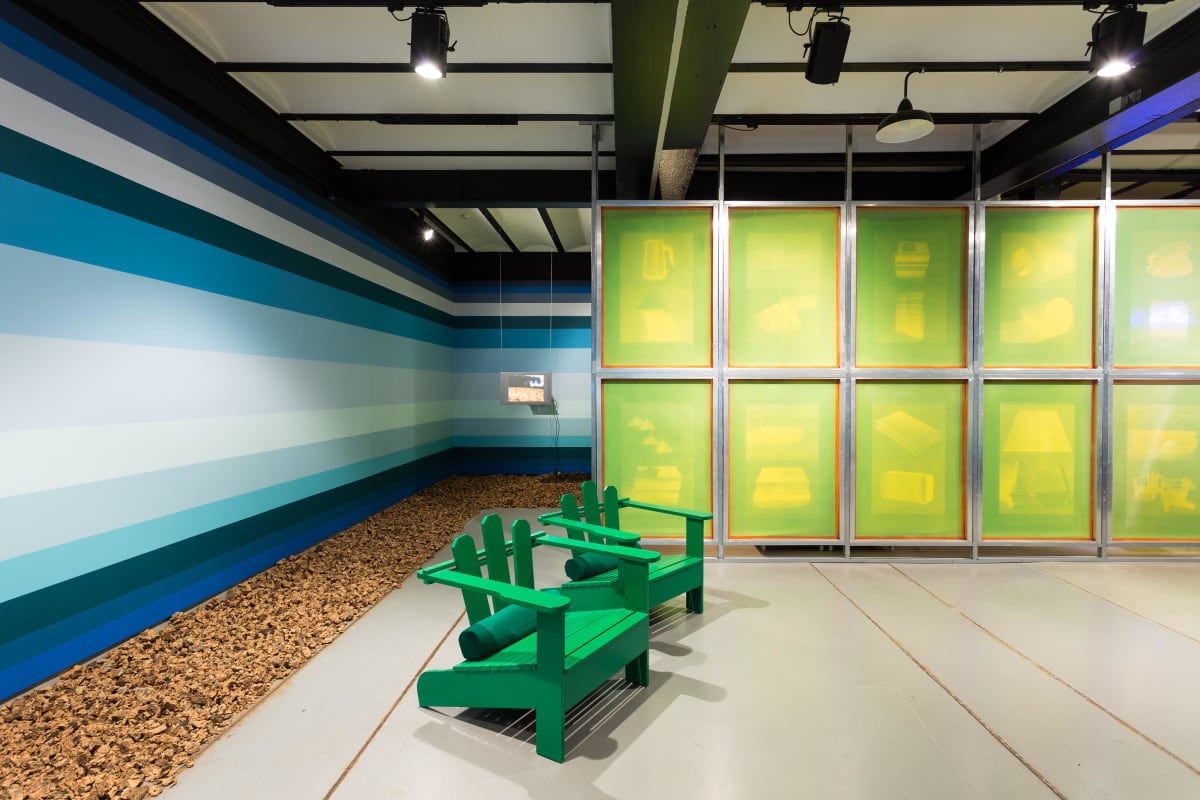 Biography
Ana Pérez-Quiroga (Coimbra, 1960) is a visual artist and performer. Graduated in Sculpture from the Universidade de Lisboa's School of Fine Arts (FBAUL), she completed the Advanced Course in Visual Arts at Ar.Co (Lisboa, PT). She holds a Masters Degree in Intermedia - Visual Arts from the University of Évora (Évora, PT) and a PhD in Contemporary Art from the University of Coimbra (Coimbra, PT). She is a researcher at CHAIA - Center for History of Art and Artistic Research at the University of Évora.

Her work focuses essentially on installation, objects, photography and performance art, while her subjects range from everyday life and its mapping to the importance of common objects and gender issues. She exhibits regularly since 1999 having had solo exhibitions at the Chiado Museum - National Museum of Contemporary Art (Lisbon, PT), the National Museum of Ancient Art (Lisbon, PT), the Museum of Folk Art (Lisbon, PT), the Nogueira da Silva Museum (Braga, PT), the Neo-Realism Museum (Vila Franca de Xira, PT), the Convent of Christ (Tomar, PT), the Municipal Photographic Archive (Lisbon, PT), Quartel of Contemporary Art (Abrantes, PT) and MAAT - Museum of Art, Architecture and Technology (Lisbon, PT). She has taken part in group exhibitions at such institutions as Culturgest (Lisbon, PT), Museu do Chiado (Lisbon, PT), Palácio dos Duques (Guimarães, PT), Centro de Arte de Salamanca (Salamanca, ES), Falconer Gallery (Grinnell, Iowa, USA), China World Art Museum (Beijing, CHN) and Villa Savoye - Le Corbusier (Poissy, FR).

She has attended international residency programmes, with grants from the Calouste Gulbenkian Foundation, the Oriente Foundation, the Institut français du Portugal - Cité international des Arts and Criatório - Municipality of Porto. She was FCT - Foundation for Science and Technology scholar between 2013 and 2017.

Her work is featured in several public and private collections, namely : National Museum of Contemporary Art - Museu do Chiado, Ar.Co - Centro de Arte e Comunicação Visual, Costa Rodrigues Collection, Figueiredo Ribeiro Collection, António Cachola Collection, Vieira de Almeida Collection, Municipality of Lisbon, Culturgest and EDP Foundation.

In 2015 she received the SPA Portuguese Society of Authors Prize for the 2014 Best Visual Arts Exhibition.
Academic Training
2017

PhD in Contemporary Art, Colégio das Artes, University of Coimbra (Coimbra, PT)

2007

Master in Visual Arts, Intermedia, University of Évora (Évora, PT)

1999

Advanced Visual Arts Course, Ar.Co - Centro de Arte e Comunicação Visual (Lisbon, PT)

1999

Degree in Sculpture, Faculty of Fine Arts of the University of Lisbon (Lisbon, PT)

1999

Advanced Project Visual Arts Course, Ar.Co - Centro de Arte e Comunicação Visual (Lisbon, PT)

1993

Course of Higher Specialised Studies - Urban Furniture Design, Urban Furniture Design, School of Decorative Arts - Fundação Ricardo Espírito Santo Silva (Lisbon, PT)
Solo Exhibitions
2020

- 21

¿De qué casa eres? Episodios de un cotidiano. Del bando republicano de la Guerra Civil Española, NO·NO (Lisbon, PT)

2019

Inventory-Diary, Playlist #39,

curated by Nuno Ramalho,

Candelabro (Oporto, PT)

2019

¿De que casa eres? Los niños de Rusia. Episodios de um quotidiano #2, Mudas. Contemporary Art Museum (Calheta, PT)

2019

ARCHIVO ANGELITA АРХИВ 1937-1956,

curated by António Olaio,

Quarto 22, Colégio das Artes, University of Coimbra (Coimbra, PT)

2018

¿De que casa eres? Los Niños de Rusia. Episodios de un cotidiano, A Pavilion / Kubikulo / Lote 67 / Espaço Campanhã / Espaço Mira / Dentro (Oporto, PT)

2018

APQ objetos expandidos, Gabinete (Lisbon, PT)

2017

A Força das coisas,

curated by Maria do Mar Fazenda,

Quartel / Figueiredo Ribeiro Collection (Abrantes, PT)

2017

APQhome,

curated by Pedro Gadanho,

MAAT - Museum of Art Architecture and Technology (Lisbon, PT)

2016

Breviário do Quotidiano #8, Municipal Photographic Archive, CML (Lisbon, PT)

2016

Breviário do Quotidiano #8, Travessa da Ermida (Lisbon, PT)

2015

Breviário do Quotidiano #8, Cité International des Arts (Paris, FR)

2015

Ir a Banhos, Silos - Sala Farinha (Caldas da Rainha, PT)

2015

Tomara que Chova, Convent of Christ (Tomar, PT)

2015

Uma quase cronologia do Espaço Espelho d'Água, Espaço Espelho d´Água (Lisbon, PT)

2014

A favor da concórdia, A Montra (Lisbon, PT)

2014

Sezures dia após dia, Objectismo (Lisbon, PT)

2014

Antes morta que burra, MAP - Museum of Art & Crafts (Lisbon, PT)

2013

Absolut taste of diversity, Rua Cor de Rosa / Absolut Pink Gallery (Lisbon, PT)

2013

Self portrait of the artist as a part of Society, Espaço PT - Andrade Corvo (Lisbon, PT)

2013

Borrowed scenery / 借景, Yu Yuan Rd. no. 1032 #53 (Shanghai, CN)

2013

The art of Travel, Galeria Quadrado Azul (Oporto, PT)

2012

Garantia da Eternidade, Hotel Tivoli (Lisbon, PT)

2012

Obra sem senão,

curated by David Santos,

Museu of Neo-Realism (Vila Franca de Xira, PT)

2012

From:, To:, Via:,

curated by Alda Galsterer,

Nogueira da Silva Museum (Braga, PT)

2011

O mundo nas suas verdadeiras cores,

curated by João Silvério,

Appleton Square (Lisbon, PT)

2011

The Walking Women,

curated by Fátima Lambert,

Quase Galeria, Espaço T (Oporto, PT)

2010

Le mur, l'humour, l'amour, Espaço BÁ (Lisbon, PT)

2009

O quase golpe da bicicleta,

curated by João Silvério,

Empty Cube (Lisbon, PT)

2009

Chinoiserie, Galeria 3+1 (Lisbon, PT)
Group Exhibitions
2023

ARCOlisboa 2023, Cordoaria Nacional, Booth NO·NO Gallery (Lisbon, PT)

2022

Drawing Room Lisboa , Booth NO·NO Gallery (Lisbon, PT)

2022

ARCOlisboa2022, Booth NO·NO Gallery (Lisbon, PT)

2021

ARCOlisboa 2021, ARCO E-XHIBITIONS / NO·NO (Online)

2021

Sexuality - an expression in art and science, National Museum of Natural History and Science (Lisbon, PT)

2020

Dissonâncias : MNAC Collection 2010-2020, MNAC National Museum of Contemporary Art (Lisbon, PT)

2020

Projecto MAP 2010 - 2020. Mapa ou Exposição,

curated by Alda Galsterer / Verónica de Mello,

Museu Colecção Berardo (Lisbon, PT)

2020

ARCOlisboa 2020, ARTSY / NO·NO (Online)

2019

O Fio Invisível - Arte Contemporânea Portugal - Macau | China,

curated by Carolina Quintela,

UCCLA (Lisbon, PT)

2019

In Spite Of - Run,

curated by Ana Cristina Cachola,

Centro Comercial Mota Galiza (Oporto, PT)

2019

Constelações: uma coreografia de gestos mínimos,

curated by Ana Rito / Hugo Barata,

Berardo Museum (Lisbon, PT)

2019

Studiolo XXI - Desenho e afinidades,

curated by Fátima Lambert,

Fundação Eugénio de Almeida (Évora, PT)

2019

1/3 Meelpress,

curated by João Silvério,

Bermondsey Project Space (London, UK)

2019

Anuário,

curated by Joana Machado, Joaquim Durães, José Maia, Miguel Flor e Rita Castro Neves,

Museum Arpad Szenes - Vieira da Silva (Lisbon, PT)

2019

A metade do Céu,

curated by Pedro Cabrita Reis,

Museum Arpad Szenes - Vieira da Silva (Lisbon, PT)

2019

Muitas vezes marquei encontro comigo próprio no ponto zero,

curated by Marta Rema,

Atelier-Museu Júlio Pomar (Lisbon, PT)

2018

Times and Movements of the Image,

curated by Luísa Soares de Oliveira,

Centro de Artes (Caldas da Rainha, PT)

2017

Género na Arte. Corpo, sexualidade, identidade, resistência,

curated by Aida Rechena e Teresa Furtado,

National Museum of Contemporary Art - Museu do Chiado (Lisbon, PT)

2017

Quatro Elementos,

curated by Pedro Faro,

Galeria Municipal (Oporto, PT)

2017

Efeito-Suruba,

curated by Pipi Colonial (Ana Cristina Cachola, Daniela Agostinho, Joana Mayer),

Rua das Gaivotas 6 (Lisbon, PT)

2016

De la Ville à la Villa – Chandigarh Revisited,

curated by Sílvia Guerra,

Le Corbusier Villa Savoye (Poissy, FR)

2016

A Coisa Está Preta,

curated by Pipi Colonial (Ana Cristina Cachola, Daniela Agostinho, Joana Mayer),

Bregas (Lisbon, PT)

2016

Amália: Saudades do Brasil, Cidade das Artes Foundation (Rio de Janeiro, BR)

2016

Avant-Garde and Neo-Avant-Garde Movements in 20th and 21st century Portuguese Art,

curated by Rui Afonso Santos,

National Museum of Contemporary Art - Museu do Chiado (Lisbon, PT)

2016

8 Artistas,

curated by Rui Orfão,

Fundação Portuguesa das Comunicações, Fundação PT (Lisbon, PT)

2016

MATRIZMALHOA,

curated by Carlos Coutinho e Mário Caeiro,

José Malhoa Museum (Lisbon, PT)

2016

"- já reparaste como o ponto de interrogação parece uma orelha, e como a interrogação se faz escuta?",

curated by Maria do Mar Fazenda,

Atelier-Museu Júlio Pomar (Lisbon, PT)

2016

Periplos Arte portugués de hoy,

curated by Fernando Francés,

Centro de Arte Contemporáneo de Málaga (Málaga, ES)

2015

Anozero 2015: um lance de dados,

curated by Carlos Antunes, Luís Quintais, Pedro Pousada e Luísa Santos,

Coimbra Contemporary Art Biennial (Coimbra, PT)

2014

Onde é a China?,

curated by José Drummond e Luís Alegre,

Orient Museum (Lisbon, PT)

2014

Um Cadáver Esquisito para o Século XXI - Projeto Sociedade,

curated by Nuno Faria,

Salão SNBA (Lisbon, PT)

2012

Knell Dobra Glas,

curated by Óscar Faria,

Galeria Quadrado Azul (Oporto, PT)

2012

O Castelo em 3 Atos,

curated by Paulo Cunha e Silva,

Paço dos Duques (Guimarães, PT)

2012

Portuguese art of the 20th century 1960 – 2010, National Museum of Contemporary Art - Museu do Chiado (Lisbon, PT)
Awards
2022

Outstanding Artistic Project, Millenium BCP Foundation / Drawing Room Lisboa (Lisbon, PT)

2015

Best Contemporary Art Exhibition of 2014, Portuguese Authors Society (Lisbon, PT)
Scholarships
2021

- 25

Scholar, FCT - Foundation for Science and Technology (Lisbon, PT)

2021

Support for the production of Cinematographic Documentaries, ICA - Cinema and Audiovisual Institute (PT)

2017

- 18

Criatório, Municipality of Porto - Russia and Spain (Oporto, PT)

2015

Institut Français du Portugal / Cité Internationale des Arts (Paris, FR)

2015

Orient Foundation (Lisbon, PT)

2013

Calouste Gulbenkian Foundation (Lisbon, PT)

2013

- 17

FCT - Foundation for Science and Technology (Lisbon, PT)

2008

Orient Foundation (Lisbon, PT)
Collections
National Contemporary Art Collection (Lisbon, PT)
Municipality of Lisbon (Portugal)
National Museum of Contemporary Art - Museu do Chiado (Lisbon, PT)
EDP Foundation (Lisbon, PT)
Museu of Neo-Realism (Vila Franca de Xira, PT)
Caixa Geral de Depósitos (Lisbon, PT)
Quartel / Figueiredo Ribeiro Collection (Abrantes, PT)
António Cachola Collection (Lisbon, PT)
PLMJ (Lisbon, PT)
Costa Rodrigues Collection (Ourém, PT)
João Luís Traça Collection (Lisbon, PT)
Ar.Co - Centro de Arte e Comunicação Visual (Lisbon, PT)
Municipality of Lisbon, Department of Urban Furniture (Lisbon, PT)
Artworks (Lisbon, PT)
Portuguese Institute of Santo António in Rome (Rome, IT)
Vieira de Almeida Collection (Lisbon, PT)